Managing a transit agency or airporter is a massive ongoing challenge, and that's before you start thinking about how to get your schedules and maps out to riders and future riders.

Dealing with fancy graphic and web designers is a pain: They're expensive, don't have any experience dealing with the tight budgets of small or rural agencies, and are usually equally stumped about how transit works.
Of course, you can get by with homemade timetables, often without maps or integration with Google Transit. But if anyone is confused, you get to spend part of your day tediously walking them through it over the phone. Worse, some potential riders will get discouraged and give up.
Rural Transit Graphics (RTG) is here to solve these problems and save you time in the process. For an annual subscription starting at just $99 per fixed route (plus $100 annual base fee), we'll design professional timetables and maps and host them on a special section of our web site created just for your agency (including download links to printable pdf versions). You just link to it from your web site (or automatically direct your domain name there) and move on to more important things. We'll also integrate your integrate your network into the world of the General Transit Feed Specification (GTFS) so it can get noticed on Google and Apple's mapping apps. Your subscription covers ongoing maintenance, so if routes or schedules change, there's no extra cost to keep things up to date.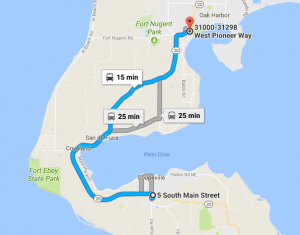 The RTG team offers a great visual product backed up by decades of experience riding on, writing about, and consulting with small transit agencies. They know the challenges, but they also know the critical role these overlooked agencies play in connecting communities across North America (and the rest of the world). They want you to succeed for both personal and professional reasons.
So, want to lose the headache of schedule design and maintenance? Game to spend less of your day dealing with confused riders? You can make it happen, for much less than you thought possible. Contact us right now for more information.
---
Download our GTFS feeds here.